November 2023: 2024 Wild Birds of New Zealand - Available to order and ship now. Email louise@louisethomas.co.nz for more details or click here to see a PDF of the complete calendar before your order. $29 each plus courier at cost, or pick up from Woburn, Lower Hutt. The 2024 calendar features the stunning blue duck/whio as well as 11 other native New Zealand birds. Large A3 (297mmX420mm) portrait calendar on 150gsm gloss art paper, with the cover on 300gsm gloss art board. Printed on one side and spiral bound. Excellent Christmas gift for the bird-lover in your life.
November 2023: Grey teals love to rest in the shady gloom of trees around lakes and wetlands, waiting for dusk when they begin feeding. Here a pair of teals rest on a fallen trunk over the water, shaded by a canopy of bare twigs filtering the light. Original acrylic painting on A3 360gsm acrylic card.
Selected for New Zealand Academy of Fine Arts Fantastic Beasts Exhibition, 1 December – 7 January 2024, Academy Galleries, Open 10am - 5pm daily, 1 Queens Wharf, Wellington. Available to purchase at the exhibition (collection on conclusion of exhibition).
For queries about art works please send Louise an email on louise@louisethomas.co.nz. Paypal invoices are available for customers in Australia, Canada, and America.
August 2023:. A number of my photos are now available as Adobe Stock photos. Check out my Adobe photo portfolio.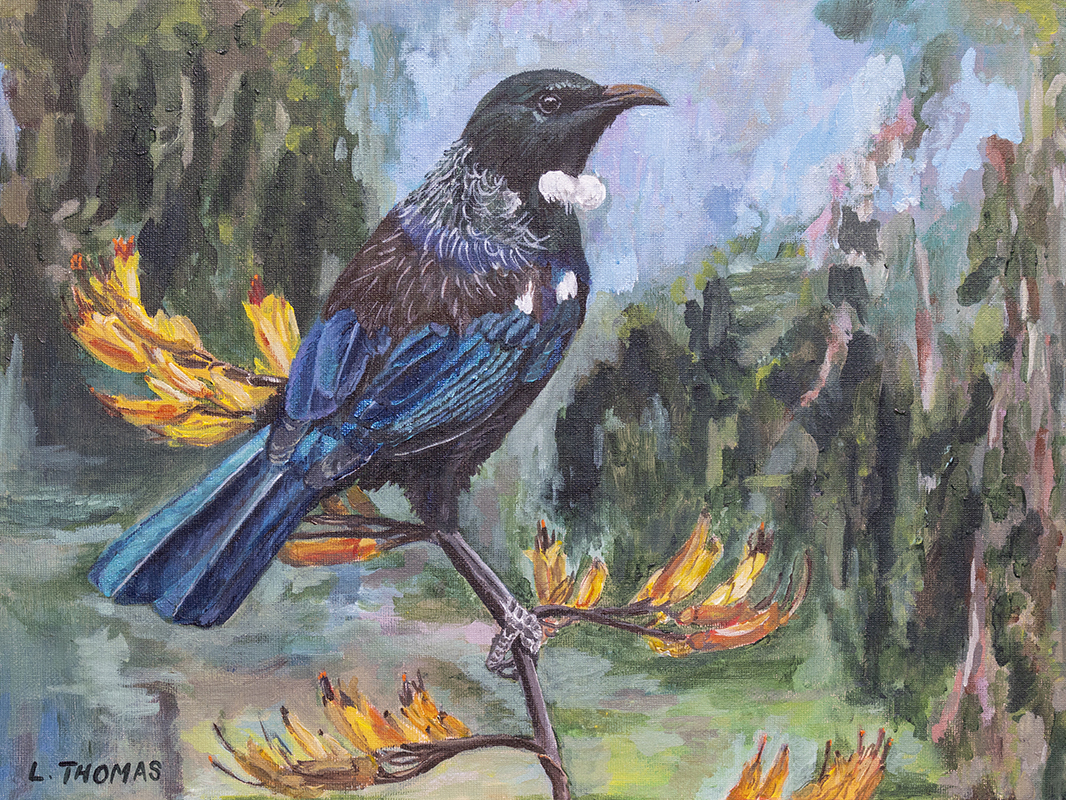 Who is Louise Thomas?
Louise Thomas is a writer who paints, draws, and takes photos. She writes about pretty much anything, but specialises in science issues, winning awards for her science reporting. She also enjoys birding, wildlife photography, and graphic design. She is a keen gardener and crafter of many things.
Louise contracts for organisations within the science community — contributing to social media, newsletters, press releases, annual reports, research reports, conference posters, and research bids. These include the Independent Research Association of New Zealand (IRANZ) and the NZ Government's National Science Challenges.
Louise was a regular writer for the Science Learning Hub and the Biotech Learning Hub, and has authored many Royal Society of New Zealand Alpha and Gamma publications for secondary school science programmes.
She also enjoys writing for young children — two children's science stories originally published in New Zealand have been published in the United States and Canada.
Louise developed a science communication course, which was launched in 2007, for the Open Polytechnic of New Zealand.
She has a B.Sc in Earth Sciences from Massey University and a postgraduate certificate in Environmental Management from Victoria University of Wellington. Before becoming a freelance science writer, Louise worked in mineral observing, soil mapping, and seismic surveying fields. She has written and edited for various organisations, including three and a half years as the communications adviser and Web Master (remember when that was a job title?) for the Ministry of Research, Science and Technology (Now morphed and merged into MBIE).
Facebook Feed